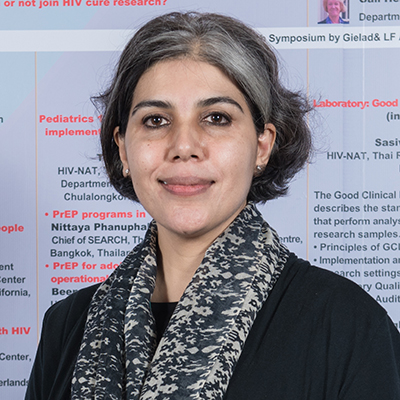 Mukta Sharma
Regional Advisor for Tuberculosis, Hepatitis and HIV, World Health Organization, South East Asia Regional Office, New Delhi, India
Biography
I am a strategic thinker committed to public health, with strong analytical and communication skills. With over two decades of experience in technical and managerial leadership roles, I bring a systems thinking and partnership approach to my roles. Key skills include: 
Specific expertise in supporting large programmes in the public sector, including development and costing of National Strategic Plans, developing investment cases and supporting sustainable financing approaches including Universal Health Coverage, and development of HIV-TB Concept Notes for the GFATM.
Expertise in managing evaluations, programme reviews, development and costing of strategies.
Understanding of health systems challenges in South Asia and Mekong Region and Former Yugoslav countries – with direct work experience in Thailand, India, Nepal, Bangladesh, Cambodia, Laos PDR, Viet Nam, China, Myanmar, Bosnia Herzegovina.
Technical experience in substance use, HIV and AIDS prevention and treatment, Hepatitis C, sexually transmitted infections, maternal and child health, and tuberculosis in vulnerable and high risk groups.
Over fifteen years with UNAIDS, UNICEF, World Health Organisation (WHO). Good in-depth understanding of UN agencies, and donors such as Global Fund for HIV, TB and Malaria, USAID and AusAID. Skilled at working in partnership with Ministries of Health, law enforcement, community partners, and sub-national stakeholders.
Multilingual and used to working in culturally diverse settings – with varying levels of competence in German, French, Hindi, Urdu, Nepali, Bengali and Thai.
All sessions by Mukta Sharma