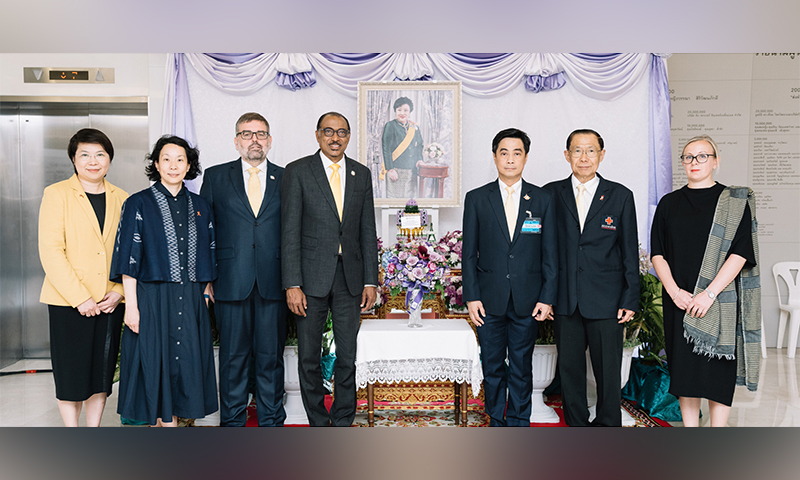 From: UNAIDS
United Nations Under-Secretary-General and UNAIDS Executive Director Michel Sidibé visits Her Royal Highness Princess Soamsawali of Thailand at Chulalongkorn Hospital
Bangkok, Thailand, 1 May 2019: United Nations Under-Secretary-General and UNAIDS Executive Director Michel Sidibé who was in Thailand on mission, visited Chulalongkorn Hospital, where her Royal Highness Princess Soamsawali of Thailand is being treated.
Mr. Sidibé, accompanied by UNAIDS Regional Director for Asia and the Pacific Mr. Eamonn Murphy, took a bouquet of flowers and paid tribute to Her Royal Highness Princess Soamsawali for her commitment to advocating for and expanding HIV prevention and bringing services closer to the people. "I would like to recognize all Princess Soamsawali has done and continues to do to prevent new HIV infections in Thailand and to reach the most vulnerable with HIV prevention services," said Mr. Sidibé.
HRH Princess Soamsawali has had a longstanding leadership role in the HIV response, to which she has dedicated almost three decades. HRH has devoted tireless efforts to the prevention of mother-to-child HIV transmission and to supporting the roll out of PrEP and HIV testing innovations. Through the Princess Fund, since 2016 HRH Princess Soamsawali has supported the Princess PrEP program, the first key populations-led model to deliver PrEP to key populations in Thailand. This effort served as local evidence to scale up PrEP pilot projects within the national health system and to support the development of PrEP roll-out where community-led health services are a critical component.
Thailand has set the global standard for how a country can effectively respond to AIDS and the lessons learnt can lead the thinking on how to re-focus approaches around the region. In Asia and the Pacific, AIDS is still not over, and the pace of progress is not going fast enough. HIV prevention is the biggest challenge. Despite the availability of a widening array of effective HIV prevention tools and a massive scale-up of HIV treatment, new HIV infections have not decreased sufficiently and are falling short of the 2020 Fast-Track prevention targets.
"With HRH's commitment and Thailand showing the way, Asia and the Pacific could become the first region to achieve the Fast-Track HIV prevention targets," commented the UNAIDS Executive Director.
While in Thailand, Mr Sidibé will also attend a high-level event on advancing innovation in the HIV response to recognize the outstanding achievements of the Thai Red Cross AIDS Research Centre (TRC-ARC) to end AIDS in Thailand and across Asia and the Pacific.